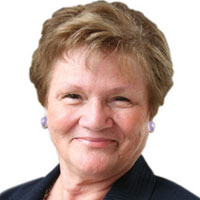 About Kathy Young
While raising her family, alongside her husband Bob, Kathy sold real estate from 1977 to 1991 (14 years), after which she left to pursue a career in public service. Kathy obtained a master's degree from U of M – Ann Arbor, with a major in public policy & planning and a minor in social welfare administration. She worked in the public service arena as VP of Program Planning, Design, and Development. As a member of the Leadership Team, Kathy designed systems at the macro, mezzo, and micro levels, developed programs, and created infrastructures to ensure efficiency, effectiveness, and satisfaction for the respective funders and providers of services to persons with disabilities, and their families. After this position for many years, Kathy retired in 2015. After just one year, in June of 2016, she returned to the workforce, restoring her real estate license from the State of MI.
Kathy has since shared on many occasions how pleased she is to have joined REMAX Platinum, located in Brighton. She incorporates her fine-turned project management approach to each of her real estate transactions, as well as, her vast knowledge of business, and her ability to problem solve, think out-of–the box, generate innovative ideas, and her proven approach to accomplish the objectives and meeting the expected deliverables.
Kathy moved from their family home, located in Commerce Township area, shortly after the unexpected and early death of her husband Bob, and has been a resident of Livingston County since 2002. She resides in Genoa Township. Working with buyers and sellers has become a major fabric of her life. She also enjoys traveling (yes, she makes herself available –LOL) , attending local concerts, and spending time with family and friends.
Sold Feb. 2020
What a joy to work with!
Kathy recently sold our condo. Her knowledge, energy, compassion, professionalism and honesty for selling is what made our minds up to use her as our REALTOR®. We found her to be exceptionally well organized as she guided us through every step of the sale. In the future we will highly recommend her to our family and friends.
Dennis & Brenda Shoner, Sellers
Closed 10/15/2018 Marian Township Condo $234,500
I met Kathy through a mutual friend. On our first meeting, I immediately felt that I had met an agent that cared about her job and clients. Kathy is professional, efficient and caring. She gave me tips on de-cluttering and getting my home ready to go on the market. It sold to the first person that looked at it.  I wanted to downsize and Kathy listened to what I wanted in my new home and location. I actually purchased the first home I looked at. We looked at several others for comparison but I was happy with that first choice. Not only did I have a positive experience with finding my new forever home, I made an awesome friend. 
Toni R, BUYER
Closed 1/13/20 Howell Condo: $224,000
"I cannot say enough good things about Kathryn!  She is by far the hardest working professional I have ever worked with, in any industry.  She goes above and beyond in EVERYTHING she does.  Kathy is exceptionally knowledgeable and passionate about what she does.  Her integrity is beyond reproach.  Working with Kathy was like working with family and we could have not had a better experience.  From the bottom of my heart, THANK YOU for EVERYTHING!  I highly recommend!!!!"
 
Tami Boggs, SELLER